To say I'm a follower of fashion would be an understatement. OK, I'm not that bad I choose the latest "we all love you" celebrity and do my best to mimic their look, but I do enjoy dressing up. What can I say, some people spend their hard-earned cash on the latest gadgets, I spend mine on the latest look.
I'm guessing that you think the same way I do which is why you're looking to find out what trends have been set by designers, and boy, you're in for a ride! One word springs to mind and that's color! At last we can say goodbye to dull greens, greys and dreary black and say hello to bright reds, greens, yellows and blues.
Ooh! Here Come the 1980's – Again!
Aside from some of the best and brightest colors, we can expect the 1980's to make a come back, but with a slight twist. Sure, the sense of a strong woman is there with bold shoulders and strong lines, but expect to see lots of class on the catwalk. You'll have plenty of choice from high-waisted jeans and slouch boots to classy looking evening wear that helps accentuate those curves we should all be proud of.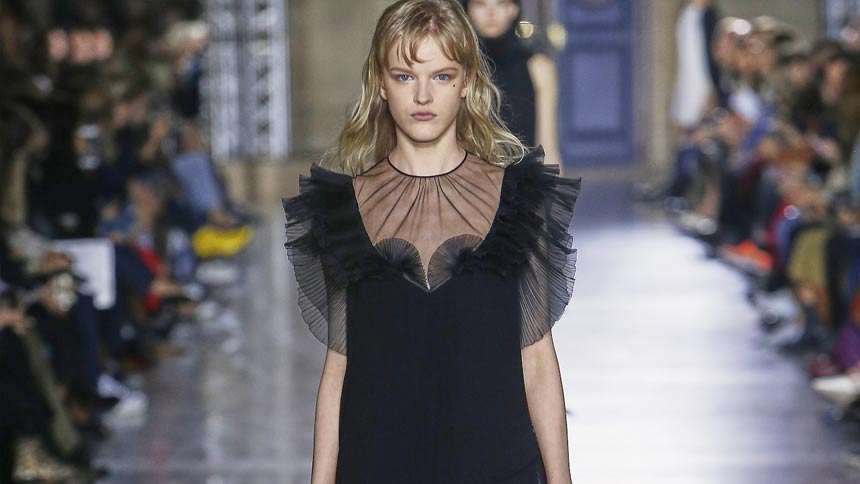 Givenchy's first female artistic director, Claire Waight Keller went all out at her debut show with powerful square blouses (don't forget the puff sleeve), cowboy boots, and print dresses. Think something along the lines of Dynasty and you won't be far off the mark.
What About Your Inner Hippie?
For those of you who are not quite into bright and bold, you've not been left out. With the 20th anniversary of Princess Diana's death, fashion gurus have decided to celebrate her life by bringing back some of her favorites. Pastels are to be seen everywhere along with layered dresses and, for those who prefer not to put their feet through hell, flats!
Feathers and fringes are possibly one of the more exciting looks and can be (as proved by the experts) mixed with 80's power dressing. There are feathered boots, dresses, and jackets. Mix this with a fringed skirt or dress, and you've got a look others will envy.
The Must Have for Your Closet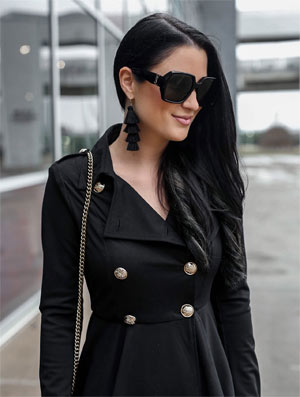 I have two words for you – trench coat! Designers have been showcasing their innovative looks with the trench coat, and they're proving to be very versatile. Plus, they are great with sunglasses! If you plan to go along to a fashion show, trench coats will be everywhere.
You can expect to seem them being teamed up with anything from formal office wear to bikinis. Yes! I did say bikinis although, quite how well this will catch on I'm not sure. Other "staples" for your closet should be high waisted jeans and sneakers.
Let Your Imagination go Wild
Personally, I'm always excited about the Spring/Summer collections I've come across so far. It seems to me that no matter what style you like to adopt, there's something for everyone. I find it refreshing that there is so much choice, and that we're not all going to be seen in the same type of design (pom pom hats to the bottom of the pile)!
You can still choose to wear those killer heels, but this year, it's ok to go flat with your footwear which is great news for women who are taller. Curvy gals can breathe a sigh of relief as well because there'll be plenty of goodies on the rack to help make the best of your shape.
How do Your Sunglasses Fit In?
This is quiet easy, really. Whatever look you fancy, it's there to be had and matched with a pair of sunglasses.
Going for a stylish or even mysterious outfit? Choose a cat-eye. Want to go all feminine? Round sunglasses always work (well, if it matches the shape of your face).
Really, don't ever buy any clothing to match your shades – or vice versa for that matter. Just choose whatever you like, and you will always find the sunglasses to go with it. Period.
Fashion Freedom at Last
Let me sum it up for you. There are fabrics a plenty from soft linen in pastel shades to wet look vinyl in strong colors. You can go boardroom boss, or girl next door and not look out of place with the latest trends. Designers this year seem to be saying "be who you want to be, not what you're told to be"!
With all the misery in the world today, it appears the fashion world has also said let's bring a bit of joy back into it and give people something to smile about.