While frame style and shape matter when you're picking the best sunglasses for your face, there are other things worth thinking about. Just like having the right frame to help balance the shape of your face, the color of the glasses and lenses should do the same for your skin and hair color.
The key is to find glasses that bring out the natural undertones in your skin and hair. Undertones tend to come in two shades: warm and cool. Warm undertones mean the visible color of your hair or skin has more hidden shades of yellows and oranges. Cool undertones tend to be blues, pinks and sometimes reds.
If you match your glasses to the undertones in your skin, they will align with virtually any skin color. Hair color is a little more difficult to match, but that's because there are a lot of different colors and undertones.
Checking Your Locks
In general, when you're dealing with hair color, you have to find a balance between your hair color and the undertone. It sounds complicated, but it isn't really.
Light Hair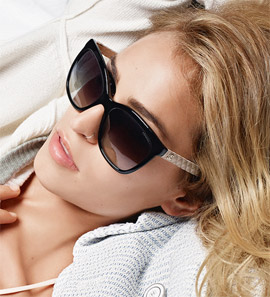 Light hair tends to do well with darker shades because it needs the contrast. If you have lighter hair with a cool undertone, you'll do well with dark grays and blues. If you have light hair with a warm undertone, try dark greens or rich reds instead.
Medium Dark Hair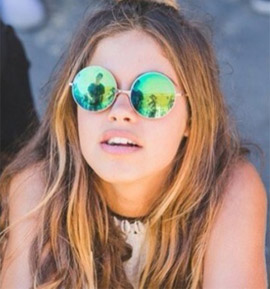 If you are rocking a brunette with cool undertones, you can match blues and pinks in the subliminal style to purple, green or white frames. Warmer skin types will gravitate toward pinks, blues and blacks.
Red Hair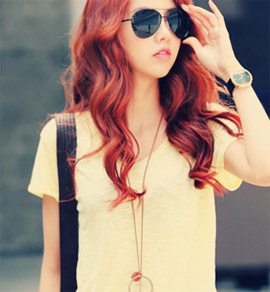 Our ginger friends don't have to worry as much about warms and cools since the hair color is so particular. Green is always a good choice if you're rocking red hair, but you can also find some great styles in basic neutrals as well as black and white.
Black Hair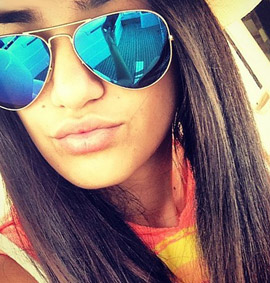 The darkest shades of hair also don't need to worry too much about undertones because they tend to be pretty uniform. Black hair does well with a statement color but not much in between. Pastels will probably be lost on your hair color, but matching blacks, bright whites, primary or secondary colors as well as rich blues can help make the statement you're after.
Your Natural Glow
Skin colors are similar to hair colors, but they rely on contrast more than hair colors do. If you're looking for a long term pair of sunglasses, always think about your skin color first. You could change your hair color tomorrow, but you will have to spend a significant amount of time in (or out) of the sun to change the hues of your skin!
Light skin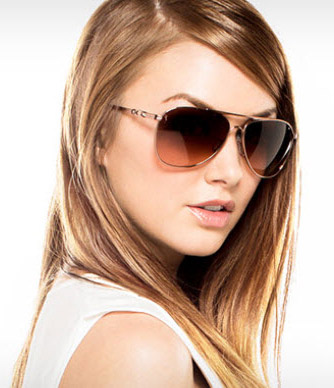 You stick to darker colors, but don't automatically go for black. If you have a warm and light skin tone, sunglasses in neutral, or dark colors like brown and gold will work well. Cool undertones beg for dark blue or rich pinks.
Medium Skin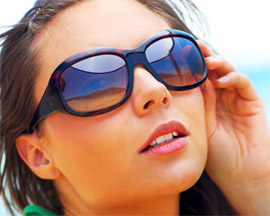 Your warm medium skin tone is going to need something equally as medium, but in a more striking direction than your light counterparts. Oranges for warmth will flatter well. Cool mediums need a color that will highlight the natural pinks hiding beneath, and this can be found with blues and lighter greens.
Dark Skin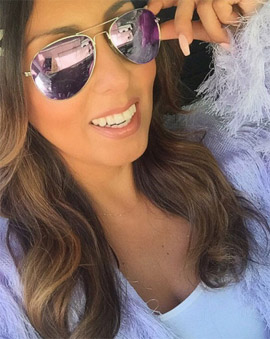 Dark skin doesn't necessarily mean going directly for white or light sunglasses. Though it can look great, you need to make sure you're making allowances for the beautiful undertones that will complement your sunglasses.
Warm shades of dark skin beg for neutrals and yellows, so anything in the color palette of reds, oranges and bright yellows should bring out the best. Cool undertones again rely on pinks and blues, so finding glasses in darker shades of blues or purples will blend well with a naturally dark skin tone.
Sun And Hair In Balance
Overall, you don't have to spend all your time worrying about skin tone and color. If you find a pair of sunglasses that make you feel like a rock star, the color you're wearing doesn't matter that much. That being said, if you can't find the right combination, it's probably because you're not paying enough attention to what's beneath your skin and hair color. In this case as well as many others, it's what's inside that really matters.