Grandma Chic Is Actually Entirely Chic
I have an aunt who is nearly 90 years old. I don't see her very often but when I do, she is always wearing an Adidas track suit and massive sunglasses. I'm sure she's had the glasses for way more years than is reasonable, and long ago they were funny because they looked like the kind of huge glasses old ladies wear. Now, they're actually fashionable since big sunglasses that cover the whole face have come back into style in a big way.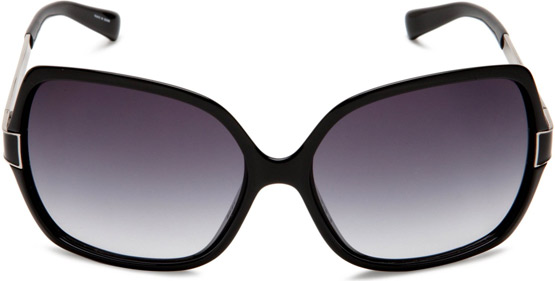 >> Click to Check the Amazon Price <<
Good For All Ages
The Marc by Marc Jacobs Women's MMJ 122/S Resin Sunglasses are similar to the ones my aunt has always worn, but these are updated for the younger crowd. I mean, they are meant to be purchased by the younger crowd, but there's no reason why my 90 year old aunt couldn't love these as much as the next teenybopper does.
The MMJ 122/S have big lenses surrounded by plastic frames that are molded together to be one solid piece. The arms are a combination of metal and plastic, and they are only made in a 59mm size. The lenses are polycarbonate, so they should be able to withstand a fair amount of hassle.
Color Options To Up Your Style Game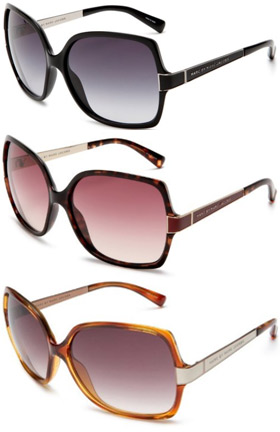 They come in four different colors options including blue ruthenium frames with grey gradient lenses, black palladium frames with grey shade lenses, dark Havana and gold frames with pink lenses and light Havana frames with grey gradient lenses.
These Fashion Forward Frames Are Not Made To Fumble
The frames are very pretty, but they are not very substantial. If you're clumsy like me, you might worry about breaking them. These are definitely the type of sunglasses that need to be kept out of harm's way, and REALLY shouldn't be worn if you're out for a jog. That being said, the price is right at just over $60.
No Matter Your Age, You Need The Right Nose
One issue with sunglasses like these that don't have adjustable nose pieces is they can be hard to keep on for people with small noses or slight nose bridges. There is literally nothing there to grip your nose if you don't have a natural protrusion, so bear this in mind if you have a button nose.
Take The Risk For Style
Overall, if you're looking for sunglasses to capture the movie star look of huge frames that cover much of your face, these may very well be the pair for you. They aren't expensive enough to put you in debtor's prison, but they aren't cheap enough to fall apart after a few uses. You may need to be a little gentler with them than others, but sometimes that's the price for style.
If you're ready to tap into the style that makes my 90 year old aunt a major trendsetter, you can buy these big, beautiful babies right here.