Wayfarers Are Much More Than Hipster Fodder!
It really doesn't get much classier than Wayfarer sunglasses. Before they were a fashion statement, Wayfarers were just glasses. They were the standard for people all over, and they were often seen on presidents and movie stars. They are however, usually made of a type of reinforced plastic but… no way is this a bad thing!
I like things that remind me of history but at the same-time are still stylish. When Wayfarers came back, I think they tried to bring them back among the vane of "ironic" things that people were wearing, but I'm not seeing these that way. I just think they're great. They made a comeback and are not about to go away anytime soon, even as big hipster glasses that are supposed to look like something your grandmother would wear are finally leaving the scene.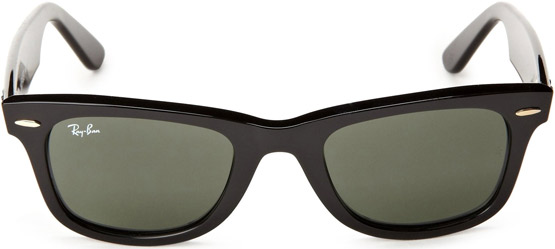 >> Click to Check the Amazon Price <<
Way New In An Old Way
The Ray-Ban RB2140 Original Wayfarer Sunglasses are traditional Wayfarers through and through. There is nothing new about them except the pair you get won't have been worn by anyone else. They are 100% classic style, and style is something Ray-Ban is famous for.
Plant Plastic Makes Old New
The frames are Acetate plastic which is actually made out of plants. The construction means they're not heavy even though they have thick frames. The lenses are polarized, so they're good for driving and precision work even though they have darker lenses. They also sport UV protection (kind of the reason why we wear sunglasses in the first place).
Way Glass Lenses
The lenses make good use of the larger plastic frame because they're glass and need extra support. I'm always nervous by glass lenses that are not held in on all sides by some sort of frame. This doesn't bother me as much with polycarbonate lenses because I don't feel like they're going to shatter. Glass lenses are reliable and safe, but they're still glass, and I worry about them when they don't have the appropriate protection. These however, do!
Have Them Your Way
Even though these are basically purchased off the rack, they can still be used as prescription sunglasses if you take them to an optometrist. This means you're not limited to blindness in the name of style. There are 32 different combinations of frames and lenses, and they vary from typical black shiny frames with black lenses to pastel colors with light lenses, all the way to the other end of the gamut with brightly colored tortoiseshell patterns in blues and greens with blue lenses.
Way Many Sizes and Colors
There are over 30 different colors and styles to choose from and they all come in three size options: 47, 50 and 54 mm. The 47 mm is probably too small for most adults. Adults with small or narrow faces and closely set eyes will probably want the 50 mm version, and the 54 can be reserved for rounder or larger faces.
Some versions of these sunglasses have arms that are wider than they should be and as a result, they slide off your ears. It's hard to tell if this is a quality control issue, but as with prescription lenses it can easily be fixed at a local optician.

Way-fair Warranty Issues
There is also the occasional problem of loose lenses in some pairs of these sunglasses which can be frustrating. It may not be a big enough issue to warrant purchasing another pair instead, but you might have to cash in on the warranty to get them fixed.
Overall, I feel you get what you pay for with these glasses. They are exactly what you would expect from this manufacturer with the added benefit of a lot of kooky colors and combinations (if that's what you're after). If I decide to go with Wayfarers, I would happily shell out $120-ish but as usual, the choice is yours.
If you want to enjoy the classic style of sunglasses that are a definite throwback to many decades of American history (for different reasons), mosey on over here and drop these in your cart.