Tom Ford Take Miranda To Infinity and Beyond
I tend to collect things with the infinity symbol on them. I don't know why I do it, it just feels like a spiritual thing to me. I won't get all preachy, but the idea of infinity makes me feel more connected to the world around me for whatever reason.
Anyway, when I saw sunglasses like the Tom Ford Miranda FT0130, I was so excited. The frames make the infinity symbol, and I pretty much decided I had to have them. Aside from the symbolism for life, they're also completely gorgeous and have a simple elegance I love……. Love, Love, Love!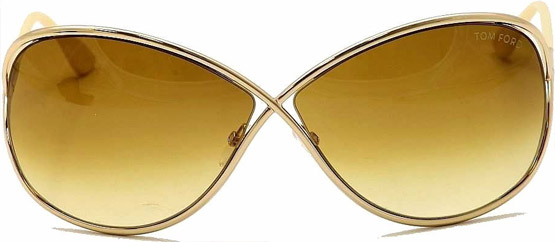 >> Click to Check the Amazon Price <<
An Abundance of Options
The Miranda's come in three color options: shiny bronze frames with gradient bronze lenses, shiny rose gold with gradient brown lenses and gunmetal. ALL of them are gorgeous, so finding the perfect pair will probably depend on your facial coloring and style.
While they're gorgeous and have big lenses, the frames are fairly small and may be tight on rounder faces. Women with narrow or smaller faces should be fine. It shouldn't be a problem for me because I have a small face and my eyes are pretty close together, but I can see how they could be tight.
Also, the bridge of the nose is a little snugger, and the nose pads don't have the flexibility that makes glasses more comfortable if you have a wide nose bridge.
Priced For Infinity
At almost $200, you'll definitely want to make sure these are the glasses you want before springing that kind of money on them. That being said, you won't have to worry about durability because they are made to last for an "infinite" amount of time.
Infinitely Enamored
I know I could love these forever, and not just because of the infinity sign. They are simple yet classy, and will last.
If you're with me, get your forever sunglasses by stopping over here.