Classic Style Wrapped Up With A Pretty Bow
When I was a kid, my aunt had a pair of Gucci sunglasses that she probably wore for 10 years. They're one of the few things I remember about her because we didn't spend a whole lot of time together. I remember seeing the big "G" when I was learning the alphabet and thinking how strange it was to have a big letter on the side of her head.
Now that I'm older I know what the G means, and I think Gucci makes some of the most beautiful bags and sunglasses on the planet. Their larger sunglasses are pretty big, but they don't make me look like a bug. I'm used to feeling like I'm going to get hit with a fly swatter when I wear bigger frames, but Gucci glasses tend to be shaped well enough so that doesn't happen.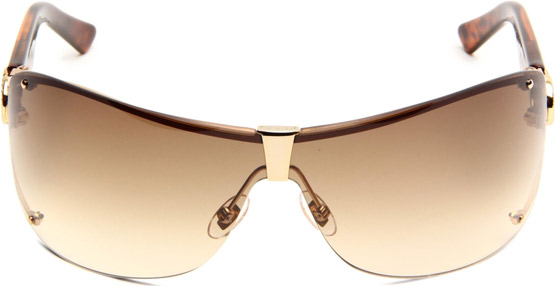 >> Click to Check the Amazon Price <<
Classic Gucci
The Gucci Women's GUCCI 2807/S Wrap Sunglasses are a classic style with a more modern twist. They still maintain their Gucci class, but they also use metal accents to bring them right into the 21st century. What I really like is the fact that they're basically frameless, but are still refined and smooth looking.
Perfect Gucci's For Small Noses
The glasses are lightweight, and the nose bridge works better for people who have small noses. They aren't heavy on the face either, so if you weren't born with a lot of room to hold things on your face, these might be the perfect glasses for you.
Gucci Style Options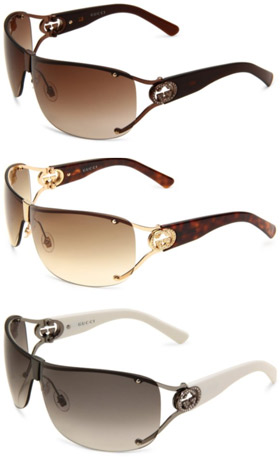 The 2807/S comes in three different color combinations. There are brown frames with brown gradient lenses, gold frames with grey gradient lenses and ruthenium frames with grey gradient lenses – all shiny so you won't be missed in a crowd! I am entirely enamored with the charcoal glasses because it's my favorite neutral color. I like the shine of them, and I love the deep color, (just my opinion).
Gradient
The gradient on the lenses make them lighter on the bottom half than the top half, but they are not particularly dark to begin with. The lenses on these don't really obscure anything at all so they're perfect for people who like lighter lenses for driving or outdoor activities that require precision. Plus, if you fancy fluttering those eyelashes at a "certain someone" they're not going to miss it when you wear these!
Timeless Fashion At A Better Price
These sunglasses are not the most expensive, but they are also not bottom of the line. After all, they are Gucci! At over $200, you are going to want to wear them for a few years at least. I think these glasses are stylish enough so they don't look boring, and classic enough so they'll never really go out of fashion.
Seriously Considering Gucci
I'm impressed with how beautiful these sunglasses are and what good things I've heard about them. I love the available colors, and I think these could stay in a wardrobe for a very long time. They look like they belong on a movie star, but they are in a price range that's affordable for most of us. If I decide to go glam rather than practical, I think these will definitely be my choice.
If you are ready for a diva look at an intermediate price, you can go chic by clicking here.