A Frameless Set That Can Keep It Together?
Of all of the styles I have examined on my trek to find the perfect pair of sunglasses, the one I have been most interested and most unable to find is a frameless pair that won't fall apart. Most of them seem to break at the joint between the arms and the lenses even WITH an invisible frame that hides behind the lenses at the top.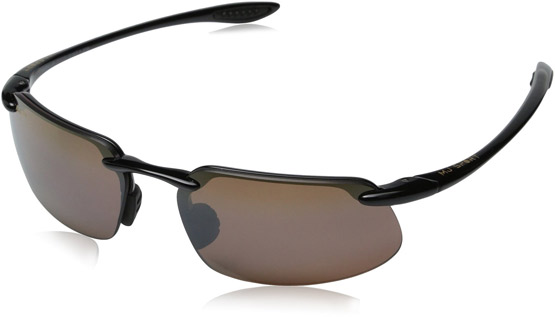 >> Click to Check the Amazon Price <<
No Frame. Lots of Movement
The Maui Jim Kanaha Polarized Sunglasses offer that style, and they are designed for intense use during activities and sports. Glasses that can withstand that kind of back and forth must be able to make it through the typical wear and tear that seems to be snapping others in all the wrong places.
Won't Scratch While You're Moving
Aside from the durability, Kanaha also offer great lenses. They are scratch-resistant for activities such as tennis, racquetball or driving. They are also very lightweight, so you don't have to worry about them being so heavy they're not comfortable while being active.
Different Glasses. Same Problem
Unfortunately, while these may be sturdier than many other options of the same style, they can still fall prey to the same issues of cracking that similar brands have. They develop fissures in the lenses near where the arms meet. Even though they have the extra reinforcement on the hidden frame up top, they still have the same problems. I can't really fault Maui Jim for that because I have yet to see a pair of glasses like these that doesn't do something similar.
You can Make Them Work
If you've worn frameless sunglasses before, you will be aware of the slight imperfections they come with, and technology is yet to come up with something to protect them from the heavier handed among us. However, if you've been searching for a style like this so you can play sport, or you just want lightweight, these are one of the best brands I've come across yet.
If you're ready for some frameless style, speed on over to Amazon and make them yours.