Weird For The Best Reasons
I like unusual things, I really do. I like things that look strange and out there, and some of the fashionable items I'm attracted to make my friends do a double take. I don't like ugly things necessarily, but unusual stuff always has a place in my heart.
I wanted to find women's sunglasses that were just out there enough to be weird without being hideous. Now, I fully understand there are things I consider weird that many others would consider unsightly, but we're working on my standard here, right?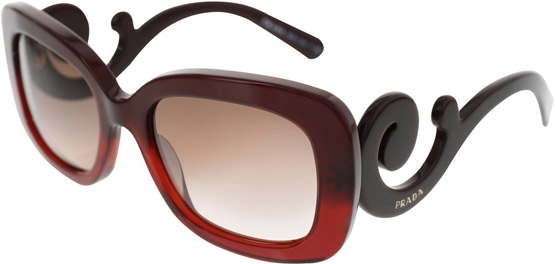 >> Click to Check the Amazon Price <<
Strange But Strong
The Prada PR27OS Sunglasses are DEFINITELY strange. They're so strange I think they might be too strange for me. The frames are the thickest I have ever seen, and the arms have a shape that can only be described as filigree. I don't even know how they can be worn on a head because they are so ornate.
That being said, the more I look at them, the more I love them. They are most certainly a fashion statement and not something to be worn every day, but they are eye catching and will definitely get you noticed at a social gathering.
I Think They're… Interesting
I think the best way to describe these glasses is "interesting", actually, I'd like to add "glamorous" as well. I can totally see a starlet wearing these with a very chic bag fashioned in the latest style. They are drawing me in by the second.
Colors To Increase Interesting-ness
The PR27OS come in 8 different colors and lens gradients. Some have a gradient that goes from the top of the frame all the way to the bottom, adding another element of interest to the style. You can get dark frames and dark lenses to reduce facial chaos, or you can spice it up with tortoise shell or heavy gradients. It really depends on how crazy you want it to get.

Detail Makes Them Heavy
One of the few complaints about these glasses is they are heavy. I can't imagine why anyone would be shocked by this because these glasses are downright bulky, but if you aren't one to hold up heavy frames, these might not be the sunglasses for you. Beyond that, they are also large. That's also not shocking considering the look, but I figured it would be best to point this out anyway.
Big Swoops Don't Stay In Place
Another concern is that without nose guards, they do have a tendency to slip off of smaller noses or faces. This isn't a problem for me, but I can understand how frames of this substantial nature can have trouble staying up.
How Often Will I Wear These
I'm so torn. I can't decide if I love them or hate them. In general, that usually leads to me loving them. When I first saw these, they were on my "totally not" list, but they have quickly made their way over to my "I MUST have these" list. At around $150, they are not the cheapest sunglasses on the market, but they're not the most expensive either (by a long way)!
If you're like me and think that unusual may be the new awesome, you can get yourself a pair right over here.