Cat Eye Sunglasses Make Me Purrrrrrrr
If you've ever watched a movie made in or based in the 1960s, you've seen ladies wearing thick rimmed and pointed glasses that are affectionately known as cat eye frames. They stick out on either side and come to a point just above the outer corner of the eye while the rest of the frame is made of thick plastic in a variety of colors.
Well, cat eye glasses are probably not going to come back into style in that sense again, but they have made their way back into pop culture with a modernized twist.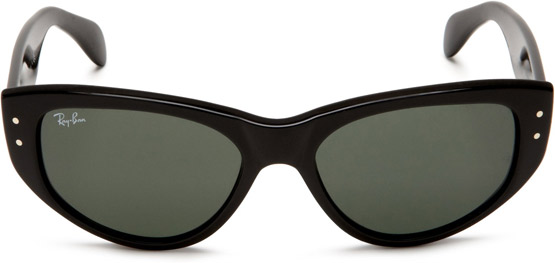 Bringing Kitty Back
Ray-Ban Women's Vagabond Cat Eye Sunglasses have the same general style as the 1960s predecessor, but they're more streamlined to look like they're from the 21st century. Unlike a lot of glasses with thick frames for women, these are actually much smaller than the huge ones that can create the "bug look".
They still meet at what looks like a point on the sides of the head, and they have adornments there like the old style. They also have a smoother appearance, and they're less striking… on purpose!
Cat Eyes Small In Size
The 53 mm style is not huge, which is great for people with smaller faces, even though the frames are still pretty thick. They maintain a somewhat retro look without being overbearing and looking like you just walked out of a time machine.
Heavy Vagabond Eyes
The glasses are slightly heavy, so they may slide off noses that have small bridges because they do not have nose pads to balance on. That being said, they're not overpoweringly heavy to the point where you feel like you're wearing a weight on your face.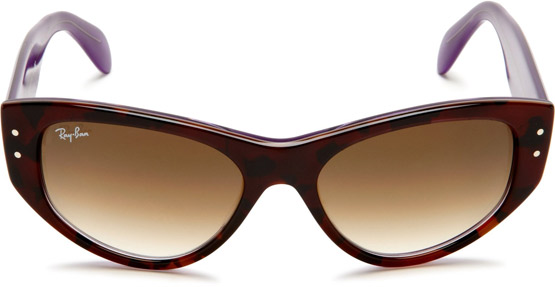 >> Click to Check the Amazon Price <<
Not Black Cat
The lenses on the purple/brown glasses are not dark, so some people are not pleased with the shade they provide. They have a gradient on them that makes them lighter toward the bottom, and does take away some of the shade that sunglasses are supposed to provide. Although, the do offer the UV protection all the way through.
The Best Of Both Eyes
At just under $100, I think these glasses are a pretty good option for someone who is not looking for something entirely flashy but doesn't want something that's too boring either. They're a happy medium between the two sides, and they still offer the sun protection people need. They may not be dark enough for all people, but that's a matter of preference. I am an old soul who has always lived in the past, so these glasses make me feel right at home.
If you want a blast from the past that still manages to be very now, time travel over here and make them yours.